Dub Club operator arrested ... Minister Grange not amused
April 24, 2017
Culture Minister Olivia Grange has called for a better relationship between the police and the music community.
Her call follows an incident at the Dub Club in St Andrew on Sunday night when cops arrested its operator, Gabre Selassie.
"I want to quickly express my concern and regret that an incident like this should have happened on a day when Carnival, quite different cultural event, was taking place. It is really unfortunate that something like this happened at the same time as Carnival, as it sends the wrong message that there are 'two Jamaicas,'" Grange said in a statement today.
The  St Andrew Central police said that two persons were arrested and charged for breaching the Noise Abatement Act during the Dub Club incident.
According to the police, about 10:30 p.m.,  police on patrol received several calls about loud noise on Skyline Drive where a party was in progress. The police asked the promoter for the permit for the event.  He was unable to produce it and the police instructed him to turn off the music and informed him that he would be charged under the Noise Abatement Act.  The patrons became boisterious and prevented the police from carrying out their functions and pepper spray was used to subdue the crowd.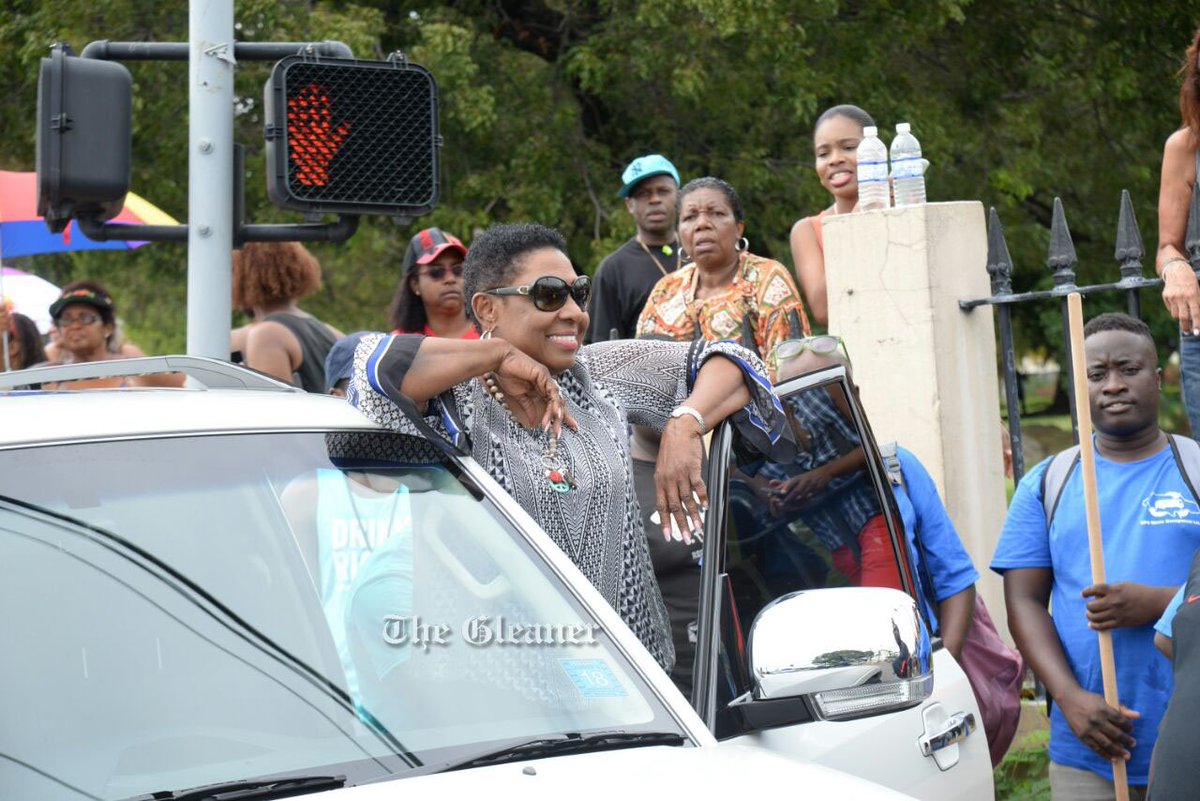 IN PHOTO: Olivia Grange watching the road march from Waterloo Road
Selassie, in a statement on Facebook before the one released by the police said the charge of breaching the Noise Abatement Act "has been lifted".
"We are not carrying any ill feelings towards the authorities...cause we know that everyman must reap what them sow... Strength and blessings to each and everyone," he said, adding that he had "just finished having a progressive meeting with the authorities".
However the police said Karlyle Lee, and 25-year-old Rahay Mooyan of Royal Flat, Manchester, are to appear in the Kingston and St Andrew Parish Court on Monday, May 15, to answer to the charge.
Meanwhile, Grange described Selassie is an icon who has dedicated and promoted roots reggae music for years. She said he deserves recognition for his consistent support of indigenous Jamaican culture.
"His work has grown out of a desire to promote our culture and he should be praised for that. The support his event gets from Jamaicans who love roots culture, tourists who come to Dub Club each Sunday night, as well as those who follow it online each week, underscores how world famous our culture is," the minister said.
"The amendment legislation to the Noise Abatement Act is on the agenda. It is a matter that my Ministry and I have been in consultation with the Ministry of National Security to see how we can quickly advance the necessary amendment to avoid instances like this," Grange said.